Texas Firefighter Summer Games
Description
For the 36th year professional firefighters representing cities all across Texas will come together for a week of fierce competition and fiery fun, and for the second time in five years Mansfield is the proud host of this prestigious event.
Special Events
Desperado Concert at the LOT Downtown
Tuesday, July 17 (6:30 to 9:00 PM)
Join us at the LOT Downtown for a night of food, beer and music as the famous Eagles tribute band "Desperado" performs. In 'N Out Burger will be on-site giving out 1,000 free hamburgers to attendees, and there will be plenty of other food and drink options available as well.
The event is completely FREE and attendees of the Firefighter Games staying in a Mansfield area hotel will be able to catch a free shuttle to and from the event.
So bring out your lawn chairs and blankets and get ready for a great night!
Family Fun Night at Hawaiian Falls
Wednesday, July 18 (6:30 to 8:30 PM)
Bring the whole family out to Hawaiian Falls with this special family fun night just for the Firefighter Games. The park will remain open late, and firefighters and their families will have the place all to themselves. All week-long Hawaiian Falls Mansfield is offering discounted tickets when you use the promo code TXFIRESUMMERBK18.
We need family sign up to make sure this event is great so get your tickets today!
Full Schedule
Events kick off Sunday, July 15th at Big League Dreams Sports Park and all throughout the week over a dozen sporting events will be played in Mansfield and the surrounding areas. The whole schedule is listed below (subject to change):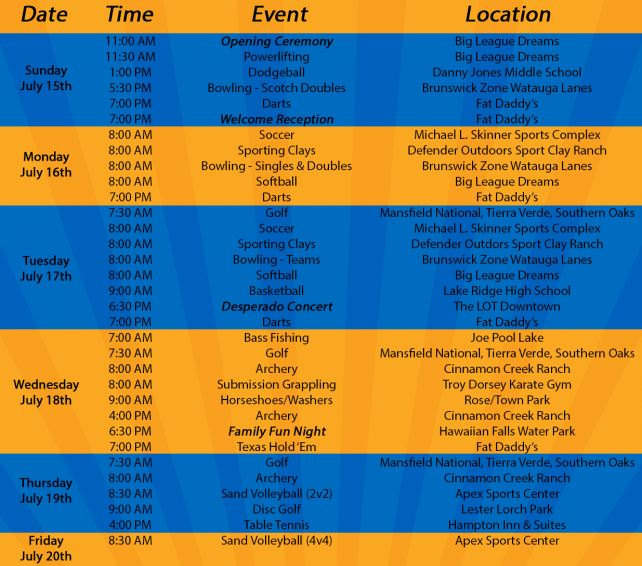 Hotels/Lodging
CLICK HERE for local hotel information.
The official host hotels for this event are the Fairfield Inn & Suites and Hampton Inn & Suites. When registering use the code: CHHffg
Where
Mansfield and surrounding areas