Description

KIDS DAY
Kick your Spring Break off with an arts day designed just for kids! Events will be held all over the city, between 10:00 AM and 2:00 PM. All events are FREE unless stated otherwise:
Community Wide Art Project
Farr Best Theater (All Day)
Join the Mansfield Commission for the Arts at the Farr Best Theater to take part in our Community Art Project! With the help of everyone on hand for Kids Day and Arts Week, we'll create works of art that will be on display for years to come!
Color Your Own Arts Week T-Shirt (purchase required)
Aria Grace (All Day)
Create Your Own Sand Jar (small fee may apply)
AndiMac Candy Shack (All Day)
Stop by and create your own colored candy "sand" jar. Small fee to cover the cost of jar and candy sand.
Wood Art Project (small fee may apply)
Board and Brush (All Day)
Bedazzling (purchase required)
Dazzarkle (All Day)
Free Cookie Decorating
Mary Lou's Coffee & Sandwich Shop (10 AM to Noon)

Create Your Own Minion!
In Front Of Mansfield Historical Museum
Join KidCreate Studio with a special free arts and craft project. Kids can create their favorite minion out of air-dry clay and add details with felt, google eyes and pipe cleaners!"
Mansfield Paints Its Heart Out ($5 Admission)
Hornburg Real Estate Office (10 AM, 11:30 AM and 1:00 PM)
Artist Geri Brettmann will host "Mansfield Paints Its Heart Out" - paint pouring classes where folks of all ages can create and take home their very own poured paint creation. Appropriate for ages 4+. Cost of class is $5 per person, cash only, no advance registration.
Sing and Play
Music Place Mansfield (1 to 3PM)
Come by Music Place Mansfield to get some hands on experience with a whole variety of instruments in the instrument petting, as well as crafts and a sing along with on-stage performers!
Rafael Molina Pottery Wheel Demonstration
Calibration Chiropractic (All Day)
Get up close with local potter, Rafael Molina as he demonstrates how to use a real pottery wheel.
Art and Go
Mansfield Public Library (All Day)
Swing by the Mansfield Public Library to make and take your own mosaic bookmark!
Mansfield Philharmonic presents "Carnival of the Animals"
First United Methodist Church (Noon)
There will be kid friendly activities after the 30 minute musical performance. It's the perfect way to introduce the kids to classical music.
FULL EVENT MAP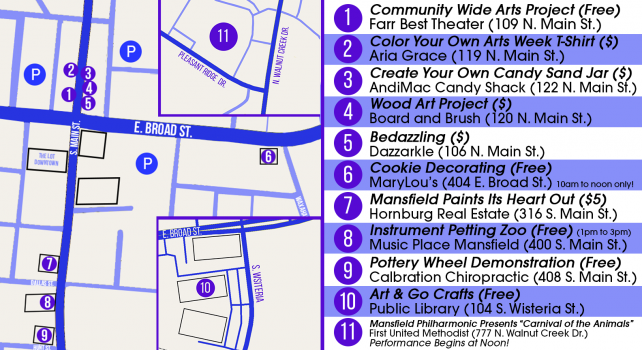 Contact Information
Where
Locations Around Mansfield