When
Description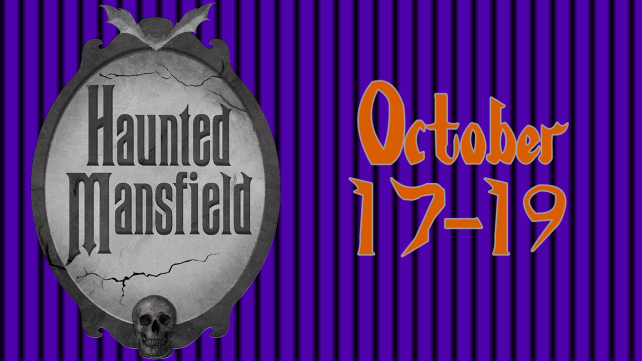 Trick or treating, ghost tours, a walk through haunted house and even a chance to do a paranormal investigation of the Farr Best Theater! This three day event will give you all the thrills and chills you need to get in the Halloween spirit!
Haunt The Block
October 17 (5-8 PM)
Historic Downtown Mansfield
Trick or treating, games and costume contests! Historic Downtown Mansfield comes alive during the monthly Third Thursday event with the ultimate, family friendly Halloween event. Best of all, taking part in this event is absolutely FREE, and a perfect start to your evening before you head off to the haunted house or ghost tours!
Historic Ghost Tours
October 17 & 18 (6-9 PM)
Historic Downtown Mansfield
Go back in time with our historic ghost tours. Hear the tales that still excite and frighten Mansfield residents to this day as you tour some of the most famous, haunted locations in the city. This tour will also give you the opportunity to be one of the first to see the brand new mini-documentary "Ghosts of the Farr Best", chronicling the supposed paranormal activity at the theater.
Tickets will be $20 and also include admission to the walk through haunted house. Tickets will go on sale soon.
The Haunting at 210
October 17 & 18 (6-9 PM) and October 19 (7-9 PM)
The Bays at 210 (210 Smith St.)
Something strange has taken over the Bays at 210. Come face to face with your worst fears in each of the rooms, from clowns to dolls and an evil Santa Claus. Thursday and Friday will offer a spooky walk through that can be enjoyed by just about all ages, but if you want a bit more fear come back Saturday night for a far more intense experience! After you survive the haunted house, enjoy our outdoor Halloween events at the end!
Admission will be $5 and tickets will go on sale soon.
Farr Best Paranormal Investigation
October 19 (8:00 PM to Midnight)
The Farr Best Theater (109 N. Main St.)
You've heard the stories, now investigate for yourself. For the first time ever the Farr Best Theater will be open for a four hour paranormal investigation. Bring your cameras and ghost hunting gear as we try to discover the spirits that haunt the century old theater. Guides will be on site to help out and light refreshments will be served. Due to the small size of the theater this is a limited event; only 15 spots are open.
Tickets will be $45 and will go on sale soon.
Cost
Some events will be Free while others will require paid tickets
Contact Information
Where
Historic Downtown Mansfield