Wondering where to eat in Mansfield? We've got you covered!
Listed below is a complete list of every restaurant in Mansfield, categorized by their general location in the city. Just click the restaurant of your choice to get its exact location.
With over 100 places to choose from there's something for everyone, whether you're planning a big victory dinner with your team, having a romantic night out or just passing through town on highways 287 or 360!
THIS PAGE WAS MOST RECENTLY UPDATED ON 9/13/21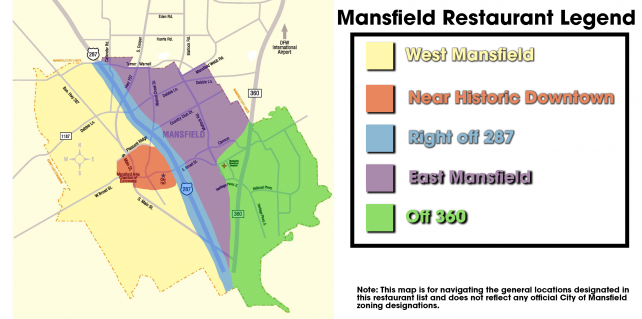 Full Mansfield Restaurant List
Near Historic Downtown
Big D Barbecue
Carnitas Michoacan
Creations Baking Company
Dairy Queen
Dirty Job Brewing
Donut Choice
Flying Squirrel Coffee Company
Helados Handcrafted Ice Cream & Pops
Main St. Tacos
MaryLou's Coffee & Sandwich Shoppe
Shiver's Snowcones (Open Seasonally)
Sonic Drive-In
Steven's Garden & Grill
Sunshine Donuts
Taqueria Jalisco
Twisted Root Burger Co. 

Right Off 287
54th Street Restaurant & Drafthouse
Applebee's
Baskin Robbins
Braum's
Branded Burger Co.
Buffalo Wild Wings
Chili's
China King Super Buffet
Chipotle
Cici's Pizza
Coldstone Creamery & Rocky Mountain Chocolate Factory
Colonial Park Donuts
Cotton Patch
Debbie's Donuts
Domino's
Einstein Bros.
First Watch
Fish City Grill
Gyro Stop
IHOP
In 'N Out Burger
Jason's Deli
Jay Jay Cafe
KFC
King Crab House
Las Molcajetes Mexican Restaurant
Mama's Pizza
McAlister's Deli
McDonald's
MOD Pizza
Nestle Tollhouse
Olive Garden
On The Border
Panda Express
Panera Bread
Papa John's Pizza
Pizza Hut
Popeye's
Raising Cane's
Sake Hibachi
Siam Corner Thai
Smoothie Factory
Spring Creek Barbecue
Starbucks
Suzushii Sushi & Grill
Taco Bell
Taco Bueno
Texas Roadhouse
The Catch
Torchy's Tacos
Waffle House
Wendy's
Which Wich Superior Sandwiches
East Mansfield
America's Best Coffee and Donuts
Arby's
Bahama Buck's
BFF Grill & Sports Bar
Blue Mint Thai & Asian Cuisine
Burger King
Cha Cha's Mexican
Char'd
Crispy Seafood & Chicken
Crumbl Cookies
Dunkin' Donuts
El Primo's Mexican Grill & Cantina
Firehouse Subs
Fuzzy's Tacos
Golden Chick
Jersey Mike's Subs
Jimmy John's
La Cima Mexican Cuisine & Bar
La Gondola Italian Restaurant
La Jalisciense Plus - Paleteria
Little Caesar's Pizza
Luna Grill
Mama Cuca's Mexican Cuisine
M Donuts
No Frills Grill & Sports Bar
Palio's Pizza Café
Panda Express
Papa Murphy's
Poured – Wine, Beer and Bubbly
Pizza Hut
Qdoba Mexican Eats
R Taco
Simply Burgers
Smoothie King
Starbucks
Stevie D's Cheesesteak
Trio Pizza Pasta
What's The Scoop
Wingstop
Wok N Roll
Ying Cafe & Pho
Zaxby's
West Mansfield
Fat Daddy's Sports & Spirits
Guadalajara
Lucy's Donuts 2
Our Place
Mama Angie's Mexican Cocina
Soulman's Barbecue
Tacos El Guero
Taqueria Los Coyotes
Whataburger
Off 360
360 Brunch House
Akarii Revolving Sushi
Chicken Express
Chick-Fil-A
China Island
Costa Vida
Dickey's Barbecue Pit
Great American Cookies
Hat Creek Burger Co.
Hideout Burgers
Jakes Burgers and Beer
Jersey Mike's
Kaiyo Sushi & Bar
Manna Juice Bar
Marble Slab Creamery
Mooyah Burgers, Fries & Shakes
Ninja Kitchen
OMG Donuts
Pho Palace 2 Noodles & Grill
Pizza Hut
Rosa's Café & Tortilla Factory
Salata
Sharetea Mansfield
Slim Chicken's
Sonic Drive-In
Sprout's Springroll & Pho
Starbucks
Subway
Taco Casa
The Porch
Tropical Smoothie Cafe
Whataburger
Wingstop
Y Donuts
Zero Degrees