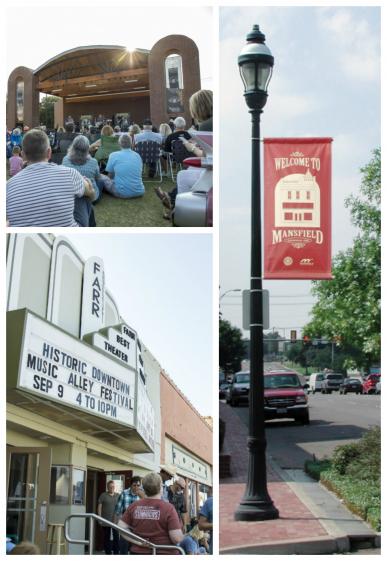 Mansfield is recognized as one of the best places to live, work and play, and offers easy access to attractions, events, dining, shopping, and business centers across the region. Distinct and unique attractions provide family educational and recreational fun, while our list of local dining and shopping options offer something for everyone.
Visitors to Mansfield can stroll the historic downtown area for shopping and lunch, stop by the Mansfield Area Chamber of Commerce, and visit the Mansfield Historical Museum & Heritage Center for a look back at the city's history - or catch a concert or a show at The LOT Downtown or the 100-year old Farr Best Theater.
The city's natural beauty attracts outdoor enthusiasts to its many parks and trails – especially Elmer W. Oliver Nature Park and the Linear Trail. Local attractions and facilities include Mansfield National Golf Club and nearby Joe Pool Lake. Major league replica fields at Big League Dreams and FieldhouseUSA host tournaments and other activities throughout the year. Thousands of people hit the slides and wave pools each summer for fun in the sun at Hawaiian Falls Water Park.