When
Description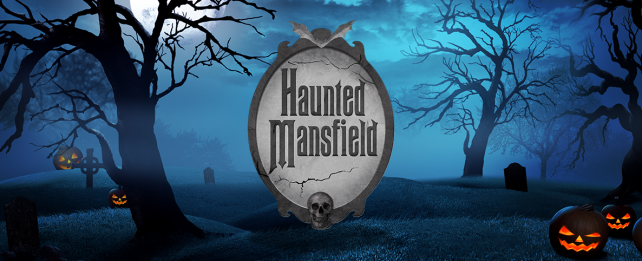 Spooky theater, parties, ghost hunts and plenty of candy! The month of October is filled with spooky fun for all ages.
More events added all the time!
Open Daily (M-F 2-8 p.m. Sat & Sun 8:00 a.m.-8:00 p.m.)
St. John's Lutheran Church (1218 E. Debbie Ln.)
The St. John Pumpkin Patch not only features pumpkins for carving, but ones for decorating and pie making too. There are many opportunities for you to take photos and make memories. Don't forget, there are FREE special events every Saturday in October.
October 7 - Faith and Blue Fall Meet and Greet
October 14 - Petting Zoo
October 21 - Bounce Houses and Lawn Games
October 28 - Trunk or Treat
All October
Flix Brewhouse (416 US 287 Frontage Rd.)
Mansfield's newest hot spot is celebrating Halloween all-October long with classic scary movies all month long. From "Scooby-Doo" to "The Exorcist", they've got you covered with the perfect spooky season cinema for everyone! Click Here for the full schedule.
September 29-October 8
Farr Best Theater (109 N. Main St.)
The mythical monster makes his grand appearance at the Farr Best stage! Large, hairy, and rumored to be very smelly, people have sought this legend for ages. But are the stories true? When a small boy named Sam loses his overbearing parents and gets lost in the woods, he comes face-to-face with a bona fide Bigfoot.
Five performances with 7:30 p.m. weekend showings and a 2:30 p.m. matinee on Sunday, October 8. Tickets on sale soon.
October 12-22
Farr Best Theater (109 N. Main St.)
This classic Agatha Christie thriller is the perfect kickoff to Halloween in Mansfield. Ten different performances with 7:30 p.m. and 2:30 p.m. matinees to choose from. Check out the full schedule here. Tickets are $18 for Adults and $15 for Students.
Show Synopsis: As news spreads of a murder in London, a group of seven strangers find themselves snowed in at a remote countryside guesthouse. When a police sergeant arrives, the guests discover – to their horror – that a killer is in their midst! One by one, the suspicious characters reveal their sordid pasts.
October 19 (5:00 to 8:00 p.m.)
Historic Downtown Mansfield
Haunt the Block returns bigger than ever in 2023 to Historic Downtown Mansfield. Trick or treating up and down Main Street, costume contests, entertainment and games at The LOT Downtown and a special partnership with Toys for Tots for their massive kickoff event! There are plenty more details to come on what this special event will bring, but save the date and plan on joining us for a frightfully good time.
October 20 & 21 (9:00 p.m. to Midnight)
The Man House Museum (604 W. Broad St.)
For nearly a century the Man House has been surrounded in mystery with stories of hauntings and paranormal encounters. Now, for the first time ever, you can investigate this historic home yourself. Spots are extremely limited, with just fifteen open for each night. Investigation will be led by GK Paranormal who will provide cameras and ghost hunting gear, but feel free to bring your own. Registration is $35 per person. Must be 13 or older to participate and those under 16 must be accompanied by an adult.
October 21 (10:00 a.m. to 2:00 p.m.)
Dr. Jim Vaszauskas Center for the Performing Arts (1110 W. Debbie Ln.)
Mark your calendars for MISD's 3rd annual WonderFALL Festival! This event is a FREE, fun, and outdoor community festival for all ages. There will be carnival games, interactive activities, bounce houses, a petting zoo, a fairy village, pumpkin eating dragons, student performances, and so much more! We are also introducing some bubble-making fun this year that you will NOT want to miss!
October 27 (6:00 p.m.)
Mansfield Activities Center (106 S. Wisteria St.)
Bring the family to the MAC for a night of trunk-or-treating and Halloween candy!
Everyone attending 2Y+ MUST be registered.
$10/person 2-11Y | $8/person 12Y+ | Free for kids under 2.
Registration is $15/person on the day of the event, online & in person.
Tales of Terror
October 27 (6:15 p.m.)
Mansfield Public Library (104 S. Wisteria St.)
Join the Mansfield Public Library for a spooky storytelling spectacle! The lights will be dimmed and the shelves will be decked out with Halloween decor while costumed librarians read some frightening tales (that are completely kid friendly, of course). And of course, there'll be plenty of candy, too! This event is free and open to the public.
Halloween at the House
October 27 (6:30 p.m.)
Man House Museum (604 W. Broad St.)
Explore a haunted tour of the Man House and meet the ghosts that walk the halls. Event is free but it requires pre-registration. Details coming soon.
October 27-November 4
Farr Best Theater (109 N. Main St.)
The acclaimed Sondheim musical slashes its way onto the Farr Best Theater stage. Six performances with 7:30 p.m. and 2:30 p.m. matinees to pick from. Tickets go on sale September 1.
Show Synopsis: A musical thriller and infamous tale, Sweeney Todd, an unjustly exiled barber, returns to nineteenth century London, seeking vengeance against the lecherous judge who framed him and ravaged his young wife. The road to revenge leads Todd to Mrs. Lovett, a resourceful proprietress of a failing pie shop, above which, he opens a new barber practice.
Mansfield Farm & Cottage Market
October 28 (8:00 a.m. to 2:00 pm.)
The LOT Downtown (110 S. Main St.)
Close out October and celebrate the Harvest from this year with Apple Bobbing Challenge, Pie Baking Contest (judged by some of Mansfield's finest), Thanksgiving Recipe Exchange, Texas Parks & Wildlife Education Booth, mini-carnival games, treats for all, door prizes & raffle, yard games, puzzle table, live bands all morning, and more! This will also officially kick-off our Farm to Families Program's "Fall Gathering" which will benefit Mansfield Mission Center (MMC); we will be collecting non-perishable food items, blankets, clothes, etc. for the coming winter months. Additionally, it kicks off our Toys-for-Tots collection for the MISD program through the end of the Market Season. Look for more details on Mansfield Farm & Cottage Market Facebook page!
October 28 (6:00 p.m.)
James McKnight Park East (700 US 287 Frontage Rd.)
Peek-a-boo, treats for you! We'll have crafts, photo ops and a fun (not-so-spooky) night walk along the small loop at McKnight Park East. Bring your little monsters and perfect punkins for a fun, family-friendly walk. Free to attend, no registration necessary.
Where
Locations Across Mansfield