Museum Tours - Mansfield Historical & Heritage Center
102 N. Main Street, Mansfield, TX 76063
Located in the McKnight Building in Historic Dowtown Mansfield, the museum and heritage center chronicles the history of the city, as well as, the North Texas region, beginning with its earliest days as home to Indian settlements along Walnut Creek to the gristmill that turned the prairie outpost into a thriving community. Hours of operation are Tuesday through Saturday 9am - 5pm. Visit the website or call 817-473-4250.
Walking Tours - Downtown Mansfield
The walking tours will take you past the homes of some of Mansfield's leading citizens--past the landmarks that made Mansfield what it is today. Several of these buildings are listed on the National Register of Historic Places or have other historical markers. You can learn about the Mansfield Male & Female Academy and the town's link to the railroad. See an original bank safe from the late 1800's in one of the downtown businesses, and later admire the homestead of Ralph S. Man, one of the founders of the town. All walking tours begin and end at the Mansfield Historical Museum and Heritage Center, 102 N. Main Street. Brochures for each tour are available at the Museum for 25 cents. Visit the website or call 817-473-4250.
Trails - Walnut Creek Linear Park
The Walnut Creek Linear Park opened in January 2007 and consists of a 12-foot wide concrete trail that extends from Town Park to James McKnight Park East along Walnut Creek. The trail is 1.9 miles long and connects five parks, three neighborhoods and two schools. Trail heads can be found at Town Park, Katherine Rose Memorial Park, Hardy Allmon Soccer Complex, Palm Court, James McKnight Park West and James McKnight Park East. Amenities along the trail include bird watching stations, overlooks and picnic stations. The historic railroad bridge "Jeffryes Crossing" was named after Steve Jeffryes who served on the Mansfield Park Facilities Development Corporation Board from 1994 to 2004.
Click here for a map of Walnut Creek Linear Park.
Bike Mansfield
In 2014, the Mansfield City Council and the Mansfield Park Facilities Development Corporation adopted an On-Street Bicycle Master Plan to make the city a more bike-friendly community and provide residents with avenues linking bikes to Mansfield parks and their extensive trail system.
Visit the website for more information regarding bike routes and planning map.
Mansfield Murals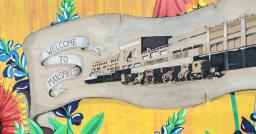 Did you know there are 30 whimsical paintings in downtown? They are centered around a two-block radius of the 100 block of North Main Street in Historic Mansfield, Texas. Head downtown for a good ol' fashioned scavenger hunt - look high, look low, look all around and see if you can find all 30. Post your findings on our mural Facebook page!
Mansfield 88 - A Public Display of Interactive Art
Come see and play our pianos - all located in Mansfield!
Mansfield 88 is a program in which local residents donate a piano to be painted. These painted works of art are then placed in and around the city of Mansfield, and are free for anyone to sit down and play.
Visit the website for more information about the pianos and their location throughout the city.