Mansfield to Host 2020 USA Hockey High School National Championships
Posted on
Wednesday, January 29, 2020 - 9:58am
UPDATE: On March 11, USA Hockey cancelled all 2020 National Championships, including the High School National Championship due to be played in Mansfield. You can read their statement here: https://nationals.usahockey.com/news_article/show/1094695
Since the Children's Health StarCenter opened in Mansfield in August 2018 it has played host to a number of big tournaments, from Dallas Stars affiliated series to Texas High School championships. However, on March 26 the puck will drop on the biggest one this city has seen yet: the Chipotle USA Hockey High School National Championships.
"It's awesome," says Kenny Rausch, the Director of Youth Hockey. "People refer to places like Dallas, California and Florida as non-traditional markets and I don't believe that term exists anymore because kids can grow up anywhere and make it big."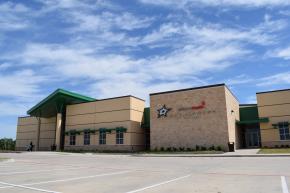 Thirty-eight teams and over 650 athletes, spread across two boys divisions and a girls division, will hit the ice for some hard hitting, top tier hockey.
According to Rausch, several of the athletes that have played at this tournament in recent years were picked in the NHL Draft, so spectators will literally have a chance to watch tomorrow's pro stars today.
The tournament is also a boon to Mansfield, and a chance to show off its new hockey arena that is attached to the quickly growing Shops at Broad.
"You can spur some interest with some kids that maybe want to try the game for the first time, and the other thing is the economic impact with all the people visiting and the teams visiting," Rausch says. "You've got hotels, restaurants, businesses, all those things that are going to see and uptick in business over the course of the week that we're there."
Best of all, admission to the tournament is free and open to the public and the entire community is invited out to grab a front row seat for the competition.
"Expect some fun hockey," Rausch added. "Kids representing their schools and their communities and you're going to get a wide range of teams... you're going to have some really high energy teams that will produce some pretty good hockey players."
For more information on the tournament and the USA Hockey program, check out their website and be sure to come out to see all the action, March 26-30.