Winter Events in Mansfield
Posted on
Tuesday, December 29, 2020 - 1:15pm
Arts and Culture
The Man House Museum
604 W. Broad St.
Open Fridays and Saturdays (10 AM to 4 PM)
Now open! Step back in time to the 19th century at the historic home of Mansfield's founder: Ralph Man. This house has been intricately restored to its original nature and gives visitors a true look at what life was like back in the mid to late 1800's in Mansfield. The property also includes the original 1865 barn.
Farr Best Theater (109 N. Main St.)
January 8, 9, 15, 16, 22 & 23 (7:30 PM)
This comedy by Adam Long, Daniel Singer & Jess Winfield is unique, one of a kind, and will keep you laughing all night long. With only 3 performers in 2 Acts, and 37 plays in 90 minutes – can you keep up? This fast-firing full of energy comedy blasts through parodies of all the Shakespeare plays (plus the sonnets!)
Tickets are $15. Click Here to purchase yours today and support local theater!
El Primo's (2300 Matlock Rd.)
January 22 (7:00 PM)
Come experience the soulful sound of the Lindsey Kate Band for an evening of country, rock and blues favorites in Mansfield, Texas! You'll enjoy tribute performances to Fleetwood Mac, Linda Ronstadt, Alanis Morissette, Jewel, Amy Winehouse and more... El Primo's is a premier music venue with great food, drinks and plenty of room for safe social distancing.
Farr Best Theater (109 N. Main St.) and Flying Squirrel Coffee (110 N. Main St.)
January 30 (5:00 PM to 7:00 PM)
Join us for Arts Around Town on January 30th as we present live art demonstrations at locations all around Historic Downtown Mansfield. This event is FREE and open to the public.
Guests who come down will also receive an awesome free gift. 
Farr Best Theater (109 N. Main St.)
January 30 (7:00 PM)
Kat Gravino of the Magnificent Theatre Company is not only an actress, but a talented ventriloquist. If you're looking for a new, funny, completely unique show appropriate for all audiences, this is the perfect fit as Kat brings a whole cast of characters to life at the Farr Best Theater.
Tickets are $12 for Students and Seniors and $15 for Adults. Click Here to purchase!
Community Events
The Local Farmer (206 N. Main St.)
Every Saturday (10 AM to 2 PM)
Come down to The Local Farmer Downtown Market Every Saturday from 10AM-2PM. Local product and food vendors will be on hand. This is a great way to support small businesses.
Dirty Job Brewing (117 N. Main St.)
Every Thursday (7 PM)
Come check out the Dirty Job Brewing tap room and go on their Social Distance Run every Thursday. The run starts at 7:00 PM and the brewery is open 'til 10 PM.
Click Here for more info.
Athletic Events
Mansfield High School (3001 E. Broad St.)
January 23 (11:00 AM)
Learn from experienced players and coaches to be more knowledgeable about football and be a better player come gameday.
Gridiron Football Academy is a day-long youth football camp that provides elite instruction from some of the nation's top former players and coaches focused on skill development and gameday readiness.
Mansfield has its own semipro soccer club! The Mansfield Revolution Soccer Club is a Division II affiliate with the United Premier Soccer League and they are burning their way up the standings in 2021! Check out their games, all played at the Michael L. Skinner Sports Complex (920 N. Holland Rd.) Masks are required for attendance.
Upcoming Home Matches:
January 23 vs. Somerset FC
January 30 vs. Side FC 92
February 6 vs. Rayados Irving FC
February 13 vs. Foro 360 Reserves
Big League Dreams
January 16, 17, 23, 24, 30 & 31
Three weekends of top tier softball action as the best teams in the state descend upon Mansfield for the North Texas Winter Worlds. Eight divisions will take the diamonds at Big League Dreams in this amazing kickoff to the 2021 sports scene in Mansfield.
Parks and Recreation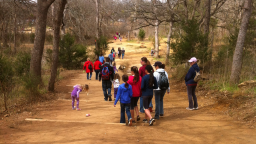 Click Here for the full slate of educational and interactive events being offered by Mansfield Parks and Recreation.