Winter Events in Mansfield
Posted on
Tuesday, December 29, 2020 - 1:15pm
Arts and Culture
The Man House Museum
604 W. Broad St.
Open Fridays and Saturdays (10 AM to 4 PM)
Now open! Step back in time to the 19th century at the historic home of Mansfield's founder: Ralph Man. This house has been intricately restored to its original nature and gives visitors a true look at what life was like back in the mid to late 1800's in Mansfield. The property also includes the original 1865 barn.
Farr Best Theater (109 N. Main St.)
February 26 & 27 March 5-6
Experience this production of a classic American comedy-drama done by the Magnificent Theatre Company. Shows are at 7:30 PM with 3:30 PM matinees on February 27 and March 6. Be sure to come out and support the local arts!
General admission comes with a free snack and is $18. Click Here to reserve your spot today.
MISD Center for the Performing Arts (1110 W Debbie Ln.)
February 26 (7:00 PM)
Join Mansfield Legacy for a double-feature Drive In Movie Night. It's the perfect family drive in with Jumanji 2 and The Secret Life of Pets 2. Admission is $20.00 per car. Concessions will be available on site.
Gate opens at 6:00 p.m. First movie starts promptly at 7:00 p.m.
Flying Squirrel Coffee Company (110 N. Main St.)
February 28 (2:00 PM)
Artists: Bring your supplies, whatever you're working on or want to work on. Spend Sunday afternoon enjoying some amazing coffees and teas while you work on your latest masterpiece! Bring an easel, paints and canvas... or just grab a sketchpad and go.
Meet other artists at The Flying Squirrel Coffee Company, and head out back with your artwork!
Community Events
The Local Farmer (206 N. Main St.)
Every Saturday (10 AM to 2 PM)
Come down to The Local Farmer Downtown Market Every Saturday from 10AM-2PM. Local product and food vendors will be on hand. This is a great way to support small businesses.
Dirty Job Brewing (117 N. Main St.)
Every Thursday (7 PM)
Come check out the Dirty Job Brewing tap room and go on their Social Distance Run every Thursday. The run starts at 7:00 PM and the brewery is open 'til 10 PM.
Click Here for more info.
Athletic Events
Mansfield has its own semipro soccer club! The Mansfield Revolution Soccer Club is a Division II affiliate with the United Premier Soccer League and they are burning their way up the standings in 2021! Check out their games, all played at the Michael L. Skinner Sports Complex (920 N. Holland Rd.) Masks are required for attendance.
February 27 & 28
Locations Across Mansfield
Celebrate the vibrant, colorful heart of Mansfield with Methodist Mansfield Medical Center's Run with HeART, a one-of-a-kind event on February 27 and 28. Each registered participant receives a race shirt, goody bag that includes a craft and chocolate medal, and map of the three routes to explore anytime throughout the weekend. Each path has a different distance and a different way to see and appreciate the city that we all love. Choose one or explore them all!
Click Here to register.
Parks and Recreation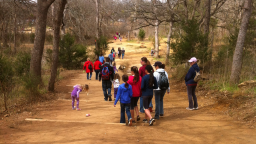 Click Here for the full slate of educational and interactive events being offered by Mansfield Parks and Recreation.