The Mansfield International Film Festival is Ready to Roll
Posted on
Thursday, February 7, 2019 - 8:46am
Before the internationally recognized film festival, Cannes was just a small seaside town in France. Before Sundance, Park City, Utah was another quiet suburb of Salt Lake City.
With that in mind, what's to keep Mansfield, Texas from becoming the next film destination in the Lone Star State? That's the mission of the Mansfield International Film Festival.
In its inaugural year the film festival kicks off this March and is looking to become one of the premiere independent film competitions in the area.
"We have a beautiful downtown area with a great, historic theater so we're putting it on the map," said Chris Bryant, the man heading up the Mansfield International Film Festival.
Chris is the Coordinator of Events at the Mansfield ISD Center for the Performing Arts as well as the current president for the Mansfield Commission for the Arts, so he is very in tune with bringing new artistic endeavors to the city.
"Looking at the Arts Culture we're trying to enhance here in Mansfield, film is an art form and as far as I know there's never been a film festival here so I said that's another element that needs to happen."
And it's already gathering attention from around the globe.  Submissions have come in from Egypt, Brazil, England, Turkey and Mexico, as well as many from all across the United States.
But the film festival hasn't happened easily. On top of the vast amount of planning and logistics it takes to get a first time festival off the ground, Chris has experienced personal loss during this process.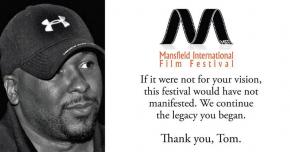 "My brother in law [Thomas King] was involved with me. He's directed films, he's been in film festivals around the country, he's won awards so it was a no-brainer to include him," Chris explained. "So we presented this to the city, they loved the idea and approved it last year and in the middle of this he passed away suddenly."
The sudden loss of a family member and crucial part of the Mansfield International Film Festival hasn't deterred Chris from pushing forward.
"Still planning this is hard," he said. "It's still sensitive and everything, but I think continuing it is something that will continue his legacy, something that he would want to see."
The vision will reach its completion a month from now, when the first films begin flickering onto the screen at the Farr Best Theater in Historic Downtown Mansfield. It's taken imagination, determination, blood, sweat and tears, but it's all laid the ground work so that one day Mansfield's name might be right up there with the other great film festivals across the globe.
The Mansfield International Film Festival runs from March 7th to 10th and also serves as the kickoff event for the city's inaugural Arts Week.