Posted on
Thursday, August 29, 2019 - 9:06am
Summer is fading and fall is nearly here, but Mansfield is just heating up when it comes to awesome things to do!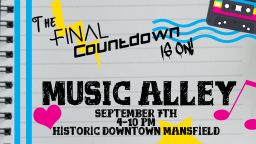 Obviously, September is define by one thing: Music Alley. On September 7th from 4-10 PM Historic Downtown Mansfield is transformed into a music and arts paradise with five stages of live music and nearly thirty artists in attendance. Plus, this year with our awesome eighties theme we're bringing in a free play arcade, VR experience and eighties makeover area, along with many other events and games!
Click Here to check out the full event schedule, bands and artist list, food vendors and more!
Of course, the month is more than just Music Alley. Once September 7th has come and gone there is still plenty more to do. Click Here to look at the full monthly calendar and check out some of the major highlights below.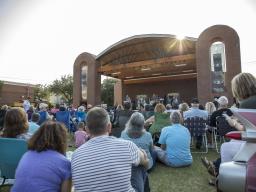 Aaron Stephens Concert
September 14 (7:00 PM)
The LOT Downtown
Join the LOT Downtown for their North Texas Giving Day event featuring a concert by Aaron Stephens. Enjoy an evening under the stars in Historic Downtown Mansfield celebrating a day of giving at The LOT Downtown.
Click Here for more information.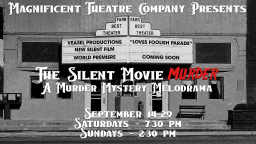 Magnificent Theatre Co: "A Silent Movie Murder"  by A.R. Gurney, presented by special arrangement with Dramatists Play Service, Inc., New York.
September 14-29
Farr Best Theater
You're invited to the premiere of thew new silent film "Love's Foolish Parade", but beware: murder is afoot!
The Magnificent Theatre Company presents a thrilling and hilarious murder mystery melodrama. The show runs for three weekends with performances at 7:30 PM on Saturdays and 2:30 PM on Sundays.
Get your tickets at MagnificentTheatreCo.com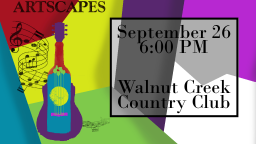 Artscapes
September 26 (6:00 PM)
Walnut Creek Country Club
The Mansfield Commission for the Arts' third annual ArtScapes event will take place on Thursday, September 26, 2019 at the Walnut Creek Country Club. This celebration of all things art will be an evening of great food, drink, beauty, and fun.
Go to MansfieldTexasArts.org for more information and to purchase tickets.
SAVE THE DATE!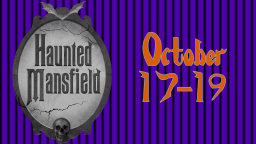 Mansfield goes scary, October 17-19 with our amazing Halloween themed weekend: Haunted Mansfield. Trick or treating, a haunted house, ghost tours and even a chance to take part in a paranormal investigation! Click Here for more info.