Mansfield Expands as Runners Paradise
Posted on
Thursday, May 12, 2022 - 10:08am
Over the recent years, Mansfield has established itself as a destination for runners and competitive races. Along with a stable of award-winning city-sponsored 5Ks like the Snowman Run and Barks & Rec, a number of running organizations host regular endurance races on any given weekend through Mansfield's sprawling trails.
Mansfield has also been the past host to the Heartland Conference Cross Country Championships, and is the annual host to the Red, White & Rockin' Tri, a USA Triathlon sanctioned race designed just for youth and kids.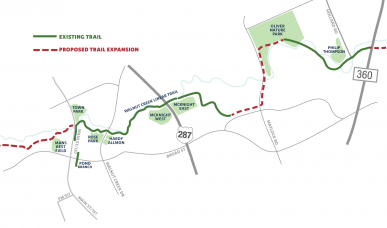 Now, Mansfield is set to expand the city's landscape as a runner's paradise. On May 7, citizens voted to approve a bond project that will complete the Walnut Creek Linear Trail to Mansfield's eastern and western city limits and extend the Pond Branch Linear Trail from Historic Downtown Mansfield to South Main Street.
This expansion and completion will upgrade the city's ability to host long distance races. The new trails will also offer beautiful walking paths or bike riding trails that every visitor will want to check out when they are here.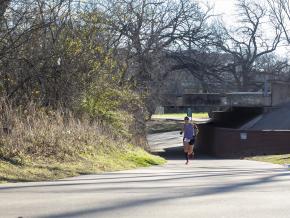 It's all part of the Mansfield Parks & Recreation Master Plan, which will eventually see over 60 miles of interconnected trails within the city, which will also connect every park, with the Walnut Creek Linear Trail serving as the primary spine.
More information on the exact trail maps and construction timeline will be available soon, so follow us to stay up to date. Also, check our regularly updated events blog for upcoming runs you can compete in here in Mansfield.