5 Spots For Tunes & Dining
Posted on
Thursday, May 19, 2022 - 9:35am
Sometimes you want a nice, quiet dinner out but there are also times when you need some tunes to go with your food!
Luckily, Mansfield has got you covered with a wide array of places that offer regular live musical performances. Here are five to check out when you're in town and looking for dinner and a show.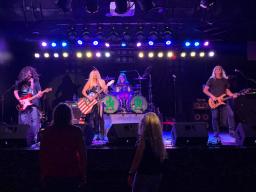 Fat Daddy's
781 W. Debbie Ln.
This sprawling sports bar comes with all the classic cuisine you'd expect and screens all over the place (including a massive 165" projection TV). On top of that they host multiple music acts a week on their performance stage. Genres differ but there's definitely a big focus on country and classic rock if that's your thing!
Certain events come with cover charges and the calendar is packed so check it out by clicking here.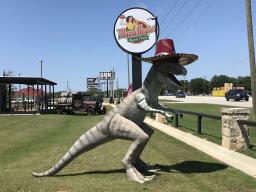 Mama Angie's Mexican Cocina
8120 Rendon Bloodworth Rd.
A giant tex-mex joint (most recognizable by the car sticking out of the roof and the T-Rex in a sombrero out front) Mama Angie's Mexican Cocina has live music every Friday and Saturday. Check out their Facebook page for individual event information!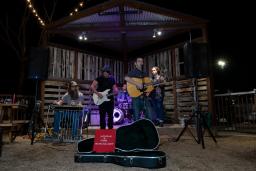 The Backyard
109 S. Main St.
Located in Historic Downtown Mansfield, the Backyard encompasses three different restaurants: Twisted Root Burger, Del Toro BBQ and Taqueria la Ventana (opening soon). So not only is there something for everyone dining wise, but the Backyard comes with plenty of seating, outdoor games and an outdoor stage with regular live music performances.
El Primo's & The Vault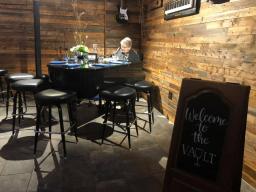 2300 Matlock Rd.
How's this for a double threat! El Primo's is one of the most popular Tex-Mex joins around and offers regular music within the restaurant. Meanwhile they recently added on The Vault, which brings and upscale menu, fine wine and live piano music Thursday through Saturday.
So whether you're wanting a chimichanga and some rock or a chardonnay and soothing piano, El Primo's has you covered in their complex.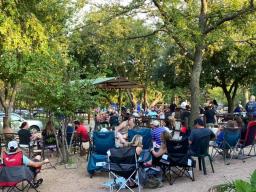 Steven's Garden & Grill
223 Depot St.
What started as a garden center has become the spot for some of the best homestyle, Texas cooking in Mansfield. Their outdoor patio and stage has been the site of music from local talent for over a decade now, as well as big time travelling acts like Marty Haggard!
Mansfield is always growing and sure to add more great performance spots. You can see all the places to grab a bite by checking out our Virtual Visitors Center.