Mansfield Makes Its Pro Debut With the XFL
Posted on
Tuesday, April 25, 2023 - 5:45pm
By Tim Roberts

MANSFIELD, TX - The DC Defenders have blazed their way to the best record in the XFL, playing in front of a raucous crowd at Audi Field in the nation's capital, setting their sights on the new football league's first championship.
"When we first got here every guy was fighting for a position and there was no team concept," said Defenders head coach Reggie Barlow. "After we made our first initial cut or two that's when the guys started buying into 'hey we are a team, we're here together, let's take care of each other."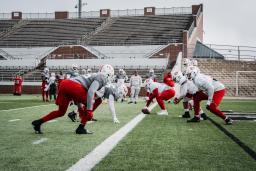 "From day one we always established that this was going to be a brotherhood," said Defenders defensive back Anthoula Kelly.
However, the groundwork for this elite season has happened far from Washington DC. Every week the players and coaches train and practice at Vernon Newsom Stadium in Mansfield, Texas.
All 10 XFL teams live and practice in the North Texas area before flying out to their "home" venues for games. Mansfield has been the base for both the Defenders and St. Louis Battlehawks in 2023 and there might be something in the water in the town that's fueled success. The Battlehawks went 7-3, tied for the second best record in the league, narrowly missing the playoffs on a tiebreaker and the Defenders are 9-1 with home field advantage in the XFL North Championship Game this Sunday.
Running back Abram Smith, the XFL's leading rusher, played high school football in Abilene and college ball at Baylor. He's relished the opportunity to succeed in a league where he can stay so close to home.
"Being in Texas my family can come see me whenever they want, and of course they don't miss a game when we play games over here in Texas as well," Smith said.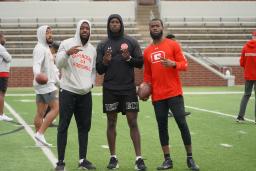 The new league has given players like Cornerback Michael Joseph a fresh opportunity to continue their pro careers. Joseph played for the Chicago Bears in the NFL back in 2021 and he's made the most of his XFL shot, leading the Defenders with four interceptions on the year.
"It's meant the world," Joseph said. "I've been through a lot as a player professionally through injuries and this whole XFL opportunity has given me a chance to show the world, my family, friends what I felt I always could do."
But even having played at the highest levels of pro football Joseph was still a bit surprised by his new home on weekdays and the enormity of the 11,000 seat home of five Mansfield high school squads.
"Mansfield has been great, the stadium is huge," he said. "I'm from Illinois so we don't have that many high school stadiums that's this big. Even our colleges, I went to a small Division III school, so our stadium was nowhere near this size."
"It's a nice little field," Smith agreed. "I could definitely see myself maybe coming down here a little bit later down the road when I'm done playing ball."
"Being here in Mansfield, in North Texas has been cool," said coach Barlow. "I understand high school football is huge here, a lot of nice stadiums, a lot of good football here. The people here have been really good to us, giving us an opportunity to practice here, use the facilities, we don't take that for granted."
The time in Mansfield has also brought some unexpected fun experiences that most probably wouldn't consider the area famous for.
"I'm from Houston, Texas so I don't get snow, but it snowed earlier this year," Kelly laughed. "That was beautiful to see."
He added, "It's been wonderful... If you want to play football why not play it in Texas, so I always wake up with the mindset of 'where else would you rather be?' I wouldn't rather be anywhere than in my state, playing football, doing what I love."