Posted on
Monday, April 3, 2023 - 9:16am
This article was originally written for and published in the April 2023 edition of Texas, Town & City Magazine
By Tim Roberts

When a small group of people got together in early 2017 to plan Mansfield's first ever Veterans Day parade, there weren't any lofty goals. A few dozen parade entries and several hundred attendees gathered by City Hall to celebrate the day and honor the local veterans. Within five years, that modest inaugural parade had changed the landscape of the city and its dedication to veterans.
"The first year I found a lot of grandparents that would bring their grandkids, which is really important to events," said Angie Henley, city of Mansfield's special events coordinator. "It's generational, so that's really what we pushed the second year."
Each year after, the parade grew, with more participants, more volunteers, and more attendees. Then, the events and programs began to spread beyond one day in early November.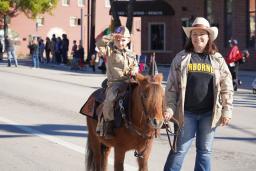 A traveling memorial, which honors every fallen soldier since 9/11, was added for the full weekend surrounding the parade. The city brought in a special three month Texas Lakes Trail exhibit, highlighting the history of female aviators. The Mansfield Commission for the Arts booked musical shows performed entirely by veterans and partnered with a local organization to host a months-long art therapy program for veterans, culminating in a gallery at the Farr Best Theater.
In April 2022, the City of Mansfield became an official Purple Heart City through a proclamation at City Council. Additionally, a veterans benefits seminar was created in October of 2022, featuring local leaders and healthcare representatives. This workshop helped veterans navigate the variety of benefits available to them that many do not know they have access to. An hour-long parade and musical salute had turned into a year-round mission of honoring and truly helping those who served.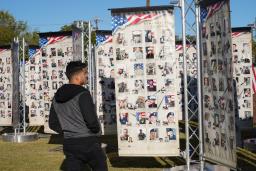 "A city needs to have a strong focus on veterans because we owe them a debt of gratitude for sacrificing their lives, putting their families on pause, and for allowing us the freedoms that we have in our country," said Mansfield Mayor Michael Evans, a Navy vet himself. "Every community needs to applaud the men and women of the armed forces of the United States of America."
Like so many other events, 2020 threatened to completely derail the parade but the city kept it alive with a full digital production that was streamed online and hand delivered on flash drives to every veteran in the city's contact system. Along with the digital copy of the parade each veteran received an appreciation bag featuring a "Proud Home of a Veteran" sign. This part of the campaign was by far the most popular and now every year the city produces more signs to deliver to local veterans with requests coming all the time.
"Who in the world knew it would be as popular as it is," Henley said. "The first year we went and delivered those signs the volunteers were 90% veterans that volunteered to go put them in the yards."
One of those veterans that has been crucial to the parade and its corresponding growth is Sgt. Daniel Kinnel, a retired Army veteran and the JROTC instructor at Mansfield High School. He was the one who originally approached then mayor of Mansfield, David Cook, back in 2017 and helped establish the parade. From there Cook reached out to Bill Ray, Commander of American Legion Post 624 in Mansfield, who jumped on board without any hesitation. With that the process of transforming a city had begun, whether anyone knew it or not.
"I meet daily with veterans and talk with them," said Sgt. Kinnel. "I felt strongly that if other cities have Veterans Day parades, Mansfield should, too. I also strongly believe in doing work in your community."
The community that Sgt. Kinnel serves was rocked by devastating news on April 25, 2022, when Bishop Evans, a member of the Texas National Guard, lost his life while serving at the Texas-Mexico border. He dived into the Rio Grande, attempting to save two migrants who appeared to be drowning. Evans was a Mansfield High School graduate and member of Sgt. Kinnel's JROTC team.
The community honored Bishop Evans's family at the 2022 Veterans Day Parade, but Sgt. Kinnel wanted to make sure a permanent legacy was in place. He partnered with the Mansfield Convention and Visitors Bureau to put on the city's first ever JROTC Drill competition, named in honor of Bishop Evans.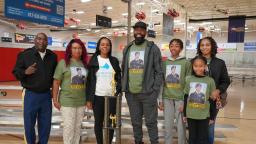 "My hope is maybe it will help heal the family, because he will never be forgotten," said Sgt. Kinnel. "It shows what Mansfield, Texas feels about its hero."
Four teams participated in the inaugural tournament, with one traveling from as far as Louisiana to compete. Already over a dozen schools have committed to the 2023 event, promising to grow it even further, just like the parade before it.
The snowball effect from a few people planning a parade for a chilly November morning has now impacted lives across the entire area, and established new events that will only continue to expand. The events have united people from across the city and constant selfless actions make them all possible.
"We have a gentleman that supplies all the authentic military vehicles in the parade, he does not want to be recognized, he doesn't want anybody to know who he is, he doesn't want any credit for it, he wants all of the credit to go to the veterans," Henley recounted.
She went on, "Melinda Conn, the head of nursing at Care of Excellence Home Health, supplies me with ten nurses the day of the parade from start to finish that stay with the [older veterans] at zero charge just because she cares about them, "Think about that? What other event does that happen at?"
The seventh annual Mansfield Veterans Day and Patriotic Salute will be November 11, 2023 at 10:00 a.m. in Historic Downtown Mansfield. You can find more information at www.VisitMansfieldTexas.com.