Calendar of Upcoming Events - February
Posted on
Tuesday, February 7, 2017 - 1:53pm
Thursday, February 16th - Third Thursday: Ladies Night 5:00pm - 8:00pm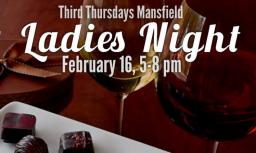 It all happens on Thursday, February 16, and this month's theme is "Ladies Night". Be sure to check the Facebook page for specials, activities, and event updates!
 Saturday, February 18th - Great Backyard Bird Count 9:00am - Noon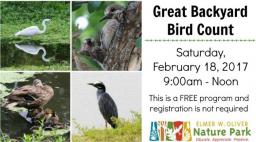 This is a FREE family event at Oliver Nature Park. Join us to participate in Cornell Lab of Ornithology and the National Audubon Society Great Backyard Bird Count. Families wil count birds to help the citizen-science project of collecting data on wild birds. Activities will include games, making a bird feeder, and nature walks.
 Saturday, February 18th - Mainstage Classic Theatre: The Lion, the Witch and the Wardrobe 2:00pm and 7:00pm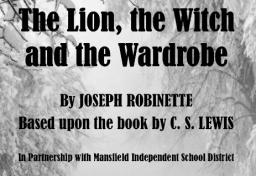 Mainstage Classic Theatre presents The Lion, the Witch and the Wardrobe in partnership with Mansfield Independent School District. There are two public performances at 2:00pm and again at 7:00pm at Willie Pigg Auditorium. Visit www.MainstageClassicTheatre.org to purchase tickets online. Tickets are also available for purchase at the door.
Monday, February 20th - Painting at the Park 10:00am - 11:30pm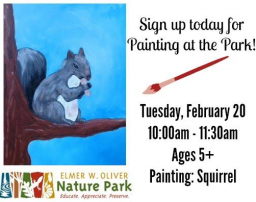 Join us for a painting class at Oliver Nature Park. You will be lead step-by-step by an instructor for this painting featuring a squirrel. This class is suitable for ages 5 and up, and all materials are included. Visit www.olivernaturepark.com to register.
Sunday, March 26th - Mansfield Wind Symphony Winter Concert 7:00pm - 8:00pm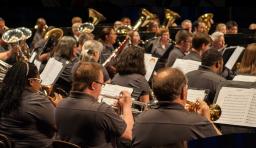 The Mansfield Wind Symphony's Winter Concert will be held at St. John Lutheran Church. This is a free concert and is open to the public. The Mansfield Wind Symphony (est. 2003) is an all-volunteer organization of adults musicians and outstanding student musicians, who have the passion and ability to perform advanced wind band literature.