Mansfield Expands as a Runner's Paradise
Posted on
Tuesday, July 23, 2019 - 1:44pm
For years now Mansfield has been considered an athletics paradise. Facilities like Big League Dreams, Fieldhouse USA, Vernon Newsom Stadium, the MISD Natatorium, the Skinner Sports Complex and the Children's Health Starcenter have given the city the ability to host any sporting event in a state of the art location.
However, the sport that is taking over doesn't required anything more than open land: Running.
With an awards winning parks system, the city utilizes two primary locations for competitive running events: Katherine Rose Memorial Park and the Michael L. Skinner Sports Complex.

The Skinner Sports Complex was the home in 2016, 2017 and 2018 of the Orville Rogers DBU Cross Country Opener. This race brings together cross country teams from across the collegiate spectrum, and serves as a great kickoff for the Dallas Baptist University squad, who regularly compete with the best of the best at the NCAA Division II level.
In 2013 Mansfield was also the host of the Heartland Conference Cross Country Championships, which were won by the DBU men's and women's teams.
At the high school level, Mansfield ISD annually hosts the Mansfield Invitational at the Skinner Sports Complex.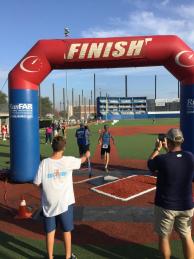 You don't have to be a top athlete to find a place to run, however. The city has a packed calendar of regular racing events such as the Mansfield Run With Heart half-marathon and the Red, White & Rockin' Kids Triathlon, which in 2019 was officially sanctioned by USA Triathlon.
A variety of races are also attached to practically every seasonal holiday including St. Patrick's Day, Thanksgiving and Christmas.
The City of Mansfield strives to make sure there's something for everyone with the creation of a series of unique fun runs. In 2019 these included the Snowman Run (dress as a snowman and get hot chocolate at the finish), the Barks & Rec 5K (run with shelter dogs), and the Sugar Rush 5K (earn cupcakes and other treats at checkpoints).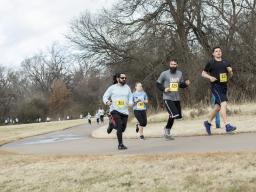 The number of races is always growing and the competition is only getting fiercer as Mansfield establishes itself as one of the top running destinations in North Texas. So whether you're a runner looking for a destination or if you're a planner looking for the next great place to host your event, you know just where to look now.