Ennis Musician Brings His LA Act Home for Christmas
Posted on
Monday, December 2, 2019 - 10:30am
There's no place like home for the holidays, and one North Texan is having quite a homecoming this season. Aaron Schumacher is a member of m-Pact, a one of a kind a cappella group based out of Los Angeles. However, his musical journey started in Ennis and on December 12th he and his group are bringing their show back to the area.
"It is always a good time bringing m-Pact back to my stomping grounds," Schumacher said, "We are sure to snag some kolaches at Czech Stop, hear some amazing music in Dallas, and eat at Waffle House (which has become a southern tour staple)."
"Also, my family is wonderful and takes every chance possible to come see a show," he added. "It is a great feeling being able to share experiences between my Texas family and my West Coast music family."
While a student in Ennis, Aaron was a member of the polka band "Czech and Then Some" and a part of the Tabernacle Baptist Church Praise Band. The little city was full of inspiration for him, both musically and otherwise.
"Often the best music teachers are just the best life teachers," said Schumacher. "Andrea Webb, a former English teacher at Ennis High School, was herself an artist in how she appealed to the budding maturity of teenagers, and taught their brains to wrestle with abstraction and win. My brain and perspective were made forever better because of her insights and actions."
His time at Ennis led to a full ride scholarship at the University of North Texas. Attending the school was an experience that "made his world better". Studying vocal jazz at North Texas helped give him the confidence to take the big leap and move to LA. There his career has skyrocketed. When he's not touring he is a member of the Harry Potter Frog Choir at Universal Studios and he's also started a small business called "VocalMist", which sells portable humidifiers and tools for singers.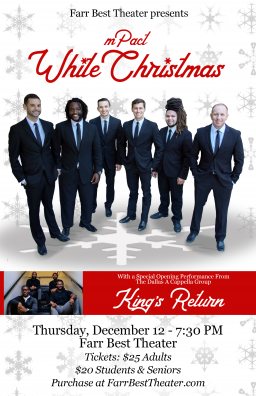 His biggest endeavor is m-Pact, and the group's sound is truly a unique one.
"M-Pact is an 'acapella' group, meaning it has only singers, however, the combination of low bass notes, soaring high notes, and a beatboxer extraordinaire mean that the group is an energized, groovy, ear-candy-making musical machine," Schumacher explained.
Best of all, m-Pact is bringing their music to Mansfield as part of their "White Christmas" tour. Thursday, December 12th at 7:30 PM they'll take the stage at the historic Farr Best Theater (109 N. Main St, Mansfield, TX) for an unforgettable holiday concert. Tickets are $25 for Adults and $20 for Students & Seniors and can be purchased at FarrBestTheater.com.
Don't miss an opportunity to hear Aaron and the gang light up the stage with this world famous ensemble.