Mansfield to Host 2022 USA Hockey High School National Championships
Posted on
Wednesday, October 21, 2020 - 1:19pm
The Children's Health Mansfield StarCenter will be the site of the 2022 USA Hockey High School National Championships! Thirty-eight teams and over 650 athletes, spread across two boys divisions and a girls division, will hit the ice for some hard hitting, top tier hockey, March 24-28, 2022.
Mansfield will be one of ten cities on USA Hockey's tournament host list for 2022, and the only southwestern city to earn hosting honors.
"It's awesome," says Kenny Rausch, the Director of USA Youth Hockey. "People refer to places like Dallas, California and Florida as non-traditional markets and I don't believe that term exists anymore because kids can grow up anywhere and make it big."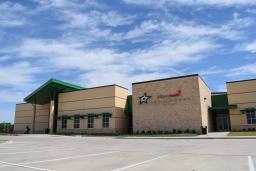 Mansfield was originally slated to host the 2020 USA High School National Championships before the COVID-19 pandemic force the cancellation of that event. The city is proud to so quickly gain the event back. Mansfield has been a regular site for regional tournaments and tournaments within the Dallas Stars system.
Click Here for more information on the Mansfield Children's Health Starcenter.